INDIAN JEWELERY, DECORATION AND CLOTHING
WELCOME IN INDIA.
If you wish to honor your Indian culture and carry a daily oriental style that highlights you, you are in the right place. On Indian Kingdom® you will find the best of the clothes, jewelry and indian decorations !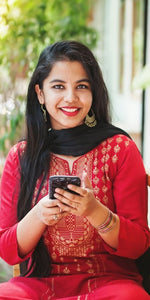 Hindus mode and jewelry
Kingdom Indian is an online shop that offers a wide range of clothing with Hindu origins. It is distinguished by its design specially designed for the indian women.
This fashion is inspired by the many traditions and standards in this part of the world. Indeed, wear sari every day or month, have a completely shaved skin or let the hair grow as it pleases varies from region to region.
So fashion is a way to feel good about her skin and mark her way of life.
Indian Kingdom offers outfits ranging from sari to dress by passing through the salwar kamiz, who serve as a practical garment to be comfortable without neglecting his femininity.
Indian women have learned to face time and be able to be ever more elegant. Some models inspired by India's heritage are found in the jewelry, betting and other clothes.
Indian Kingdom offers fashion items up to size 56 in different subjects like the cotton, the linen or the silk so that every woman finds her happiness.
In our wide selection of hindous jewelry, it is often difficult to make a choice.
You don't always know what to wear and where to draw your inspiration. But thanks to our full range of Oriental jewelry, it gets much easier.
Some of them are of course worn exclusively by women, but others may be worn by men.
Of course, you will find some of the eastern jewelry that is mostly worn by women. bohemian jewelry also called boho.
THE BEST OF THE ORIENT
You can believe that, Indian Kingdom® is the best place to find the latest nuggets in the field of indian garment, de indian jewelry and of indian decoration.
We have given ourselves the task of providing high quality products in three major areas: clothing, jewellery and decoration.
So you will find on our online shop many saris, salwar kameez, lehenga choli, sherwani and kurta but also turbans of Indian headdresses and Indian sarrels and full of others!
Concerning our jewelry store, it consists of bracelets, rings and bindis but also Indian necklaces and pendants of any kind, diadem and nose jewelry without forgetting the traditional henna !
Finally, to say a word about our selection of Indian deco, you will find many references to deities on our statues, sculptures, carpets, walls and tentures, but also on our rarer rooms like our table paths our posters our vases and sticking!
Also find on our blog many tips and tips about Indian cuisine and its spices, oriental decoration and its beautiful colors or the indian mode !
We ship our products around the world with the utmost precaution from Paris to New Delhi, to make your help radiate the indian culture worldwide!
Indian culture fan?
Enter our newsletter to receive outstanding promotions and exclusive info about the Indian universe!