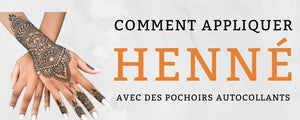 How to apply henna with a sticker stencil
of reading
The Sticker stencils For henna are perfect to succeed in drawing on his body all kinds of motifs.
Eastern tradition of hundreds of years old, taking up on the body with henna dough has become very fashionable in the West in recent years, especially thanks to the ease of application that these stencils offer.
6 steps to apply henna with a stencil
After choosing the place where you want to apply the drawing, make sure you have clean and dry skin.
Cut the part of the sticker stencil that interests you and paste it on your skin.
Remove the protective film from the sticker stencil for henna
Use the henna dough to fill the stencil, making sure to support to make the most smooth as possible
Wait a handful of minutes until the paste solidification.
Remove the sticker stencil and henna dough and enjoy your new henna tattoo for 3 to 7 days!
The different types of sticker stencils for henna
There are several types of stencils for henna different, especially according to their origins and therefore the styles of patterns, and according to their use, unique or reusable.
Stencils for henna Indians
The stencils for henna who come from the Middle East are easily recognizable thanks to the complexity of their motives. Often very worked, with very elegant shapes and curves, these traditional drawings are widely used for religious motives or important events of Hindu daily life.
It is also on specialized sites in the eastern and Indian universe like ours you will find the best Sticker stencils for henna with Indian reasons !
Stencils for Henne Maghrebin
Berber inspiration, stencil motifs for Henne Maghreb are simpler. They represent very popular tribal signs in North Africa. Just as traditional as in India, henna is very popular in the Muslim peoples and is associated with a long cultural history!
The different types of use
There are two main types of sticker stencils to apply traditional patterns:
Single-use stencils
Reusable stencils
If you do not need to apply only once a pattern, the Single-use stencils Will be perfect for you. They costs less because of the materials used to manufacture them.
The Reusable stencils, often made of rubber, are ideal if you are a big fan of henna and want to apply regularly on your skin. They are as well on used by professionals!
---